Dissertation
Social Sculpture Denim
Denim is one of my passions. You might even say it's what originally sparked my interest in fashion. Even now, denim is one of the most important parts of my wardrobe, and is something I wear, in some shape or form, almost every day.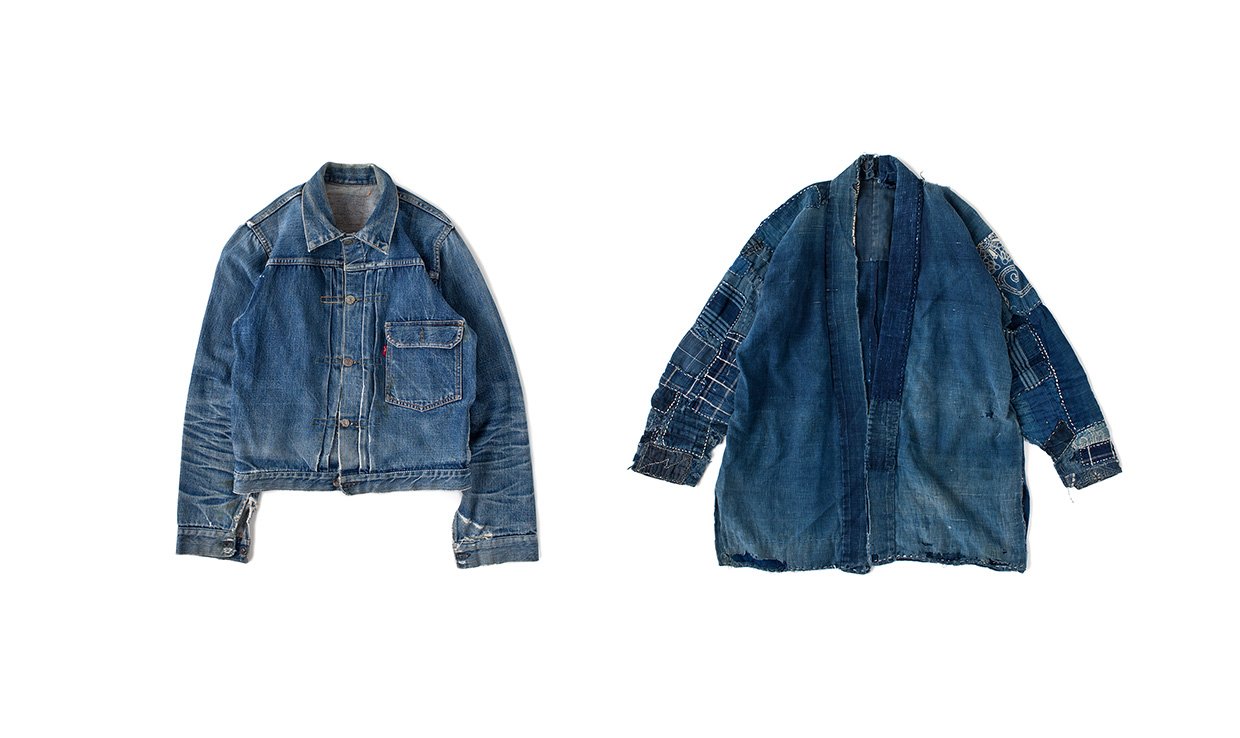 Denim is one of my passions. You might even say it's what originally sparked my interest in fashion. Even now, denim is one of the most important parts of my wardrobe, and is something I wear, in some shape or form, almost every day.
I came across my first pair of "real" denim jeans when I was a teenager, maybe 14 or 15 years old, right before the huge vintage denim movement began in Japan in the 1980's. By "real" denim, I mean denim that was stronger and sturdier than the mass-produced jeans flooding the markets at the time, denim with a certain character and warmth. I remember going down to a vintage store in Harajuku with my friend, and finding a pair of Levi's XX jeans. They were quite expensive for me at the time, and it was the first time I ever spent my own money on clothes, but I felt that there was something very different about this pair. The color, the texture...why was it different? I wondered. As vintage jeans became more and more popular in Japan in the 80's, I continued to ponder the same things I had initially wondered on that fateful day in Harajuku. What is the root of this power that attracts me to certain jeans? I wanted to know the reason, and I began to approach the question in different ways to find out.
American denim was originally used as a fabric for workwear garments like overalls and jeans. A twill-weave textile traditionally made from 100% cotton, denim was considered a comfortable, hard-wearing material suitable for a variety of garment applications. It was different from other twill textiles in that it was composed of one dyed longitudinal thread (the warp) and one white fill thread (the weft). This construction, in addition to making the fabric particularly strong in the warp direction, also contributes to the high-contrast fading and random vertical streaking characteristic of worn-in jeans.
Because denim was made for workwear garments, it was not fancy at all. Modern technology allows for denim to be made from very uniform yarn, but denim from 50, 100 years ago used only rough, uneven cotton yarn. This, of course, was not done intentionally; uneven yarn was the only yarn available at the time, and there was no real need for an extremely uniform yarn for workwear garments in the first place. The use of uneven yarn had the unintended effect of producing one-of-a-kind pants that were all slightly different from one another, a phenomenon that was not reproducible with the uniform yarn used in later denim.
Visually, the most defining characteristic of denim is its deep blue indigo color. Although jeans were unique to America at the time, the use of indigo dye was not. Japan and Southeast Asia have deep histories and traditions associated with indigo, and were indigo-dyeing their clothes long before American jeans even existed. Until chemical indigo was invented in Germany around 1880, all of the indigo-colored dye used around the world was made from natural indigo. People from different countries used the indigenous plants that were available in their respective regions, but they were all using natural ingredients to dye utility clothing. When I saw these old samples from Japan and Southeast Asia, I was inspired by the properties of natural indigo dye, and sought to create something with a similar warmth using modern day techniques and dyes.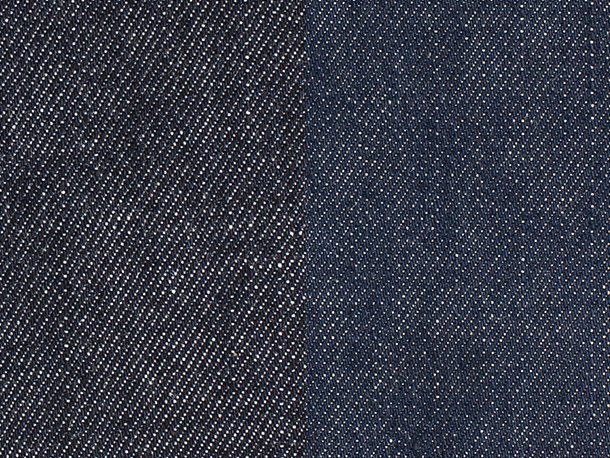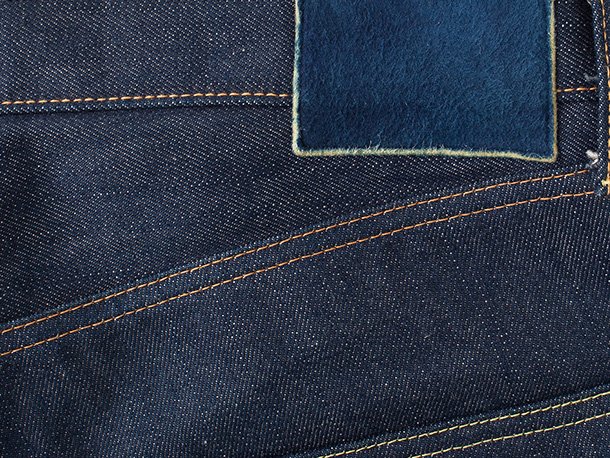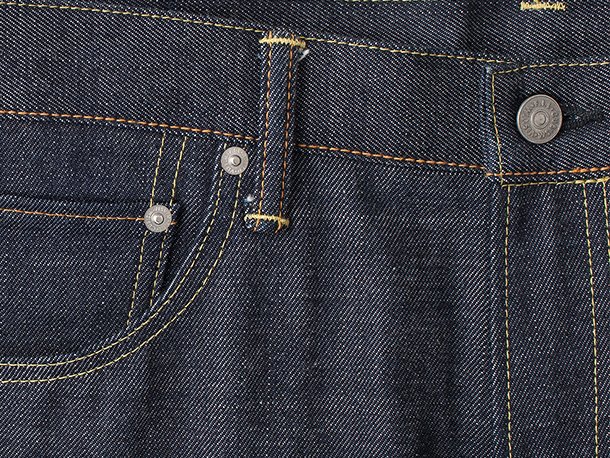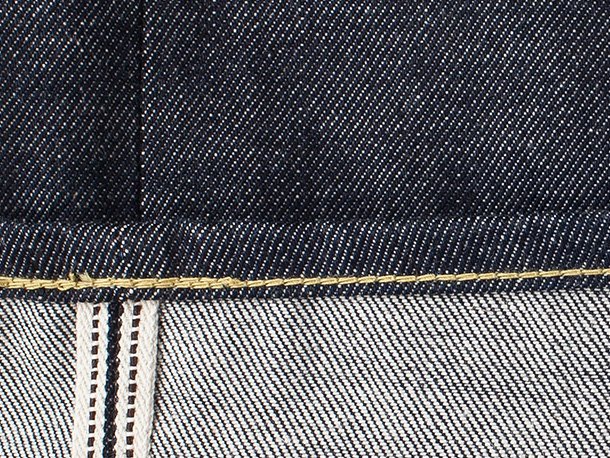 It's still difficult to put my finger on what attracts me to denim. More than any other fabric, perhaps, denim is just as much about a feeling as it is about objective metrics like fabric weight or tensile strength. Maybe it's because the fabric has meaning. I've always been into utility wear - workwear, military, etc. - because it is designed with a purpose, and is more than just clothing designed for a certain "look".
It is important to always have a concept. Having a concept and designing a product, versus merely trying to mimic a look will yield vastly different outputs. Everything about our denim is designed exclusively for us: the color, the yarn, the custom rivets, the two-toned stitches, the natural indigo dyed deer skin patch...everything is deliberate, and embodies our "meaning."
When I design, I project myself onto the product and use myself as a reference for my clients. The denim that we produce right now is absolutely the only denim I ever want to wear. It's a manifestation of me staying authentic to my original vision, and also staying true to the needs of my customers. Denim follows your life, it shows your life, it shows your character, and as you wear it more, the more you come to like it. A pair of Social Sculpture denim is a treasure trove of vintage knowledge and countless hours of development extracted and boiled down into a modern package. The denim that you come in and pick up from one of our stores...that is just the starting point.